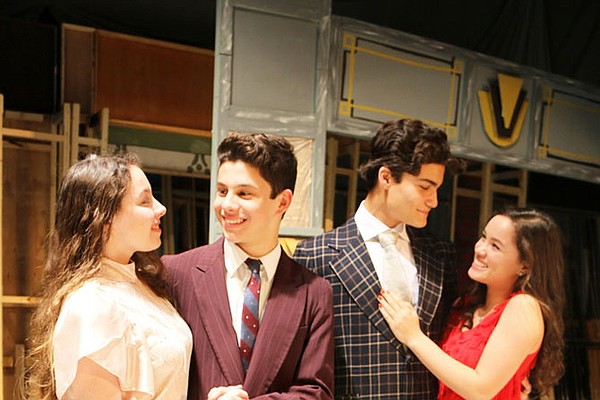 Thursday, April 5, 2018
Featuring a cast and crew of 60, the musical comedy "Thoroughly Modern Millie" will soon burst upon the stage at Paul VI High. They've been rehearsing since January, and Director Kathy d'Alelio says things are going really well.
"My actors are great, Ahmad Maaty is our choreographer again and we have a new music director, Randy Martono-Chai," she said. "The show's message is, when it comes to marriage, love has everything to do with it — and it's something that Millie learns along the way."
Show times are Friday-Saturday, April 13-14, at 7:30 p.m.; and Sunday, April 15, at 2 p.m. Tickets are $15, adults; $10, students and senior citizens, at the door and via pviproducers@gmail.com.
The story takes place in the 1920s, and Vogue magazine has said that modern girls marry their bosses, so Millie picks one who's handsome and rich. But when she meets Jimmy, who likes to party and have fun, she gets distracted and falls in love with him.
Senior Gracie Tecala plays Millie, who's in her early 20s. "She's a young, strong, energetic girl who has a lot of dreams and wants to have a big adventure in life," said Tecala. "She moves from Kansas to New York City and plans to marry her boss so she can live this exciting life she's always wanted."
One of the show's themes, said Tecala, is that "Millie wants to be a modern woman who leads by reason, and not emotion, takes charge of her own life and is different from the classical idea of a woman back then. I absolutely adore this character; she's a lot like me and I've learned about being strong from her. I also love dancing in this show — that's been so much fun."
HER FAVORITE SONG is "Gimme, Gimme," which she sings about falling in love. "Some of the notes are hard to reach," said Tecala. "But it's such an emotionally charged song and is one of the most iconic numbers from this show."
"All the music is just beautiful; the audience will especially like the big, ensemble dance numbers," she continued. "Two of them are tap – which is fun to watch because the sounds of the taps are integrated into the songs. In the office where Millie works as a stenographer, every time she types on her typewriter, you hear the taps, and it's really creative and a cool concept."
Portraying Millie's best friend, Dorothy, is senior Ava Plante. "She's the opposite of a modern flapper," said Plante. "Instead, she's very proper and elegant; she's wealthy and has upper-class mannerisms. But even though she's been raised rich, she wants to know what it's like to be poor."
Plante likes playing Dorothy because "She's a mix of Anna from 'Frozen' and Marie Antoinette, who would pretend to be a maid. She sings lots of high notes, is a little ditzy and doesn't have many concerns until the end. I really like the reprise of the song, 'Ah, Sweet Mystery,' sung by me and the other three leads. We're all doing different harmonies and melodies; and in the end, I hit a high C, which is always fun."
Plante said attendees will appreciate "all the talent in the show. All the featured singers have fabulous voices, and the crew is wonderful, too — really good at what they do. And there are a lot of funny moments that the actors bring to life. Mrs. Meers, played by Kathryn Webb, is especially hilarious."
Freshman Nick Burgos plays Millie's boss, Trevor Graydon. "He's very smart, but I make him funny without him knowing he's being humorous," said Burgos. "He's also handsome, but oblivious to the fact that so many women in the office, including Millie, find him attractive. He's focused on getting his work done quickly and efficiently."
Burgos enjoys his role because Graydon "fits my personality so well, and his music is perfect for my pitch. My favorite song is 'Speed Test.' Graydon is dictating a complaint letter that Millie's writing down as he says it. And as the song progresses, they both get faster and faster. It's insane and so much fun."
Burgos said attendees will like the dancing and diverse styles ranging from ballroom to freestyle to tap. "There's a lot of action going on at once, which the audience will find very cool," he said. "I love being part of this show because everyone in it is really fun to be around."
Portraying Jimmy is freshman Nick Herrera, Millie's love interest. "He's a playboy, goes to parties, doesn't have any commitments and isn't productive in his life until he meets Millie," said Herrera. "He's not very responsible, but is confident and cocky. He feels like he owns the world and has a good life, even though he doesn't. When he meets Millie, he has an internal struggle because he's gone from girl to girl, so this is the first time he's ever cared about someone besides himself."
"I like playing a confident person and someone who evolves, and it's fun to portray that change," continued Herrera. "And I enjoy working with the other leads." He also likes singing "What Do I Need with Love?" because it outlines Jimmy's inner battle. As for the audience, he said, "They'll like the chemistry between the main characters. Although the story touches on some heavy themes, it's a fun, lighthearted play. And all the choreography, dancing and jokes make it really enjoyable to watch."
PROUD OF HER TALENTED CAST, Director d'Alelio said, "I've worked with Gracie since she was a freshman, and she's wonderful as Millie. And I've heard Ava sing in the chorus, but this is the first time she's auditioned for us, and she has a gorgeous voice. This is a classic, musical comedy and audiences will leave with smiles on their faces."