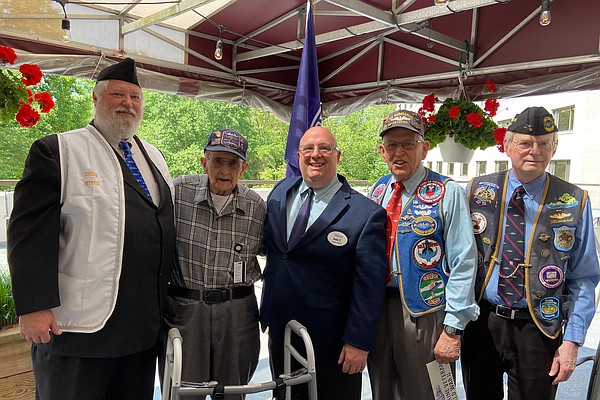 Friday, June 11, 2021
The Virginian, a senior-living community in Fairfax, recently hosted the U.S. Submarine Veterans Assn., Northern Virginia Base, as it honored Virginian resident Alvin "Al" Anceravage, 99, on the 75th anniversary of his submarine service in WWII. On May 20, he was presented with an award and gifts for his achievement. And thanks to vaccinations, his family members were able to join him for the outdoor celebration.
Born on Oct. 7, 1921, Anceravage enlisted in the Navy in 1942. He qualified in submarines in 1944 aboard the USS Narwhal, 77 years ago. Most of his war patrols on that ship dealt with the resupply of men, supplies, and parts in support of personnel on various islands in the Philippines. At the time, Narwhal was the lead ship of nine of the Navy's largest submarines. Anceravage was on active duty, serving on several ships until 1948, when he transferred to the Naval Reserves. In 1954, he left the Naval Service for good.