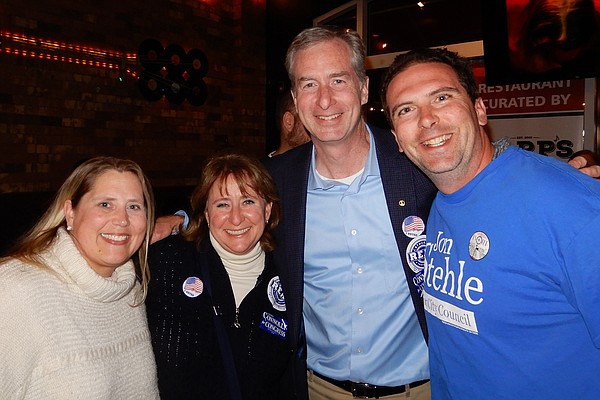 Wednesday, November 9, 2022
In the election for Fairfax's six City Council members, residents chose three incumbents, a former longtime Councilmember and two newcomers. But until the provisional and late-absentee ballots are tallied next week, residents won't know whether GMU student Billy Bates or resident Ana Renner will be among them.
Incumbent So Lim led the pack, garnering 6,246 votes for 15.35 percent, followed by incumbents Tom Ross, 5,228 votes, 12.85 percent, and Jon Stehle, 4,935 votes, 12.13 percent. Newcomer Kate Doyle Feingold was fourth with 4,509 votes, 11.08 percent, and former Councilmember Jeff Greenfield came in fifth with 4,158 votes, 10.22 percent.
The sixth seat, however, is still a toss up until the remaining votes are totaled and certified next Monday, Nov. 14. Meanwhile, Renner received 4,123 votes, 10.13 percent, and Bates, 4,116 votes, 10.12 percent, with only 7 votes difference.
Tuesday night, Lim was delighted with her results. "I guess all the hard work I did paid off," she said. "I've been knocking on doors every day. I also thank my volunteers who worked at the polls today from 6 a.m.-7 p.m. And I appreciate all the people who came out and gave me their support. I'm humbled and honored to be serving another term."
"I feel ecstatic," said Ross. "What's important is that this election was about the future of the City and the generation that hasn't participated in local politics before. This whole new generation stepped up."
Stehle said he's "excited to work with So and Tom and continue what we've done on Council. And I'm looking forward to working with our new mayor and my new and old colleagues on Council." He attributed his victory to hard work and his "earning the trust of the voters, for the past three terms. I think this election was all about voter turnout. More than 9,000 people voted – at least three times the amount that voted in the May elections."
Happy about her win, Doyle Feingold said, "There was a lot of partisanship [in the race], but I'm ready to represent and work for everyone in Fairfax City. And I'm thankful for everyone who voted. I plan to focus on the environment and on finding a way for residents to be more engaged and heard in all the decisions being made."
Pleased, as well, was Greenfield, who previously served 24 years on the Council. "I knocked on a lot of doors and worked really hard," he said. "I felt good about it, but you never know what'll happen until the dust settles. I've got experience, and experience matters."
He called the City business-friendly, but said, "We've got to do more. For example, we could help small businesses and homeowners get permits in a predictable and easier fashion. That helps everybody because of the number of people who'd be hired as a result. And the more we're able to do that, the less we're looking at having to increase tax rates." 
As for Renner joining Council, she said, "I'm cautiously optimistic, but I'm not counting my chickens until they're hatched."