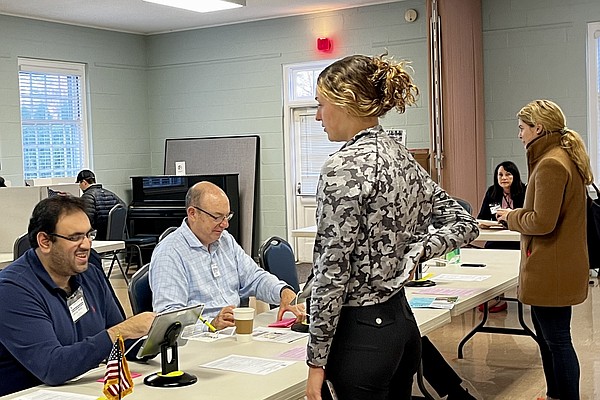 Wednesday, November 9, 2022
Great Falls voters were up early and casting ballots in the midterm elections of 2022.
At precinct 322 Forestville, only the 11th Congressional District race for the US House of Representatives was on the ballot. James (Jim) Myles (R) challenged Gerald E. (Gerry) Connolly, the incumbent (D).
The Virginia State Senate District 38 race and the VA House of Delegates District 6 race will be held on Nov. 7, 2023.
Virginia had no 2022 ballot initiatives comparable to Maryland's Question 4, "Legalize marijuana in Maryland," and California's Proposition 1, "Provide a state constitutional right to reproductive freedom, defined to include abortion and contraceptives."
Outside, close to the polling location, four people, one Democrat and three Republicans covered the two campaign tents. When asked what mattered to them in this election, each individual responded differently
At the Republican Tent Carla Lanza listed three issues: "Education, crime, and inflation." 
Pam Masaniello said that it involved multiple administration-related matters. "Anything that will help us change the tenor of what's going on, with the hostility with schools, with promoting policies that are detrimental to our children. I'm pro-life, but it's more than that. It's what we're doing with our children in the school system. These are very important to me." 
Suzanne Charleston said, "It's all about the economy."
Over at the Democratic Tent, Jennifer smiled, glanced over at the Republican tent, and said, assuring," There are Democrats in Great Falls. We live here. We are part of this community, and we love this community. We want better things for our community, and we greet each other, say hello, and welcome our neighbors. We've had several new neighbors come through today, and this is our first time voting in Great Falls."
Catherine Moran, Chief Election Officer at Precinct 322, reported 369 votes as of 10 a.m. on Election Day.