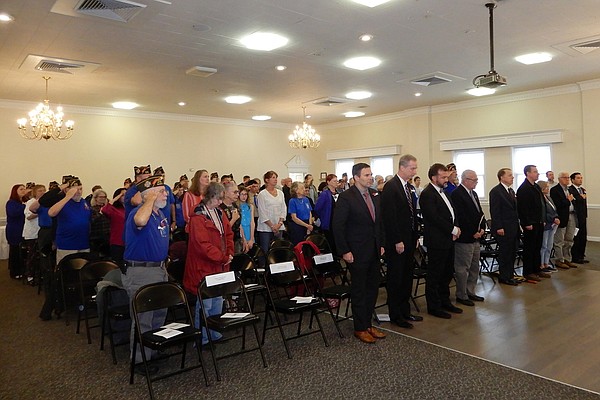 Wednesday, November 16, 2022
Veterans Day ceremonies in Fairfax City are always moving and heartfelt – and the one last Friday, Nov. 11, at American Legion Post 177 was no exception. That post, plus VFW Post 8469, hosted the event before a packed room.
Besides local residents, attendees included U.S. Rep Gerry Connolly (D-11th), Del. David 
Bulova (D-37th), Sen. Chap Petersen (D-34th), Del. Dan Helmer (D-40
th
),
Fairfax Mayor David Meyer, Mayor-Elect Catherine Read, and City Councilmembers Sang Yi, Janice Miller, Joe Harmon and Tom Ross.
"Today we honor every man and woman who has proudly worn the uniform and bravely defended our nation, while protecting its people from the many threats we have faced – and will face – in the future," said VFW Post 8469 Commander Mac McCarl. "The world is beautiful, fascinating and wonderful, but also dangerous."
He said nowhere is that fact clearer than in the current conflict in Ukraine, "where a supposedly responsible nation, occupying a permanent seat on the U.N. Security Council, has chosen to invade and destroy another sovereign nation, with only the flimsiest of justifications. These threats are real and omnipresent and, on occasion, necessitate a call to duty of our own armed forces." 
"In August 1990, I never imagined that six months later, I'd be crossing into Iraq with the 1st Armored Division and engaging in the second-largest tank battle in history," said McCarl. "It serves as a reminder that the veteran's job is never done. But just as the security of our nation is a continuous process, so is the support to those who stepped up to ensure that security.  
"Last year, I stood here and noted the need to pass the Promise to Address Comprehensive Toxics (PACT) Act. That bill expanded the conditions experienced by veterans from toxic exposures like burn pits for treatment by the VA [Veterans Administration]. I'm happy that legislation passed, and I thank Congressman Connolly for his, and all the other votes, from both parties that passed that bill into law. It's an example of what right looks like."  
Basically, said McCarl, "This contract between the veteran and the government is as critical to national security as any new weapon system, because it's central to morale and the future readiness of the force. Today we celebrate and honor our veterans, along with thousands of others across this country, in cities large and small, in a way that transcends our differences. Let that continue to be our collective way forward as citizens of this great country."
Next, Connolly said, "No conflict in history equaled what soldiers went through in WWI. In every way, until that point, we were unprepared. And today we witness the power of war begun by one, delusional man who doesn't recognize Ukraine's independence. The Ukraine people desire to do what we did – become free. It's a battle between liberal, democratic values vs. authoritarianism – and we must win it."
So, continued Connolly, "As we celebrate and remember Veterans Day, we must also remember our country, its role in the world and how it can help others. Those veterans fought and died for the republic we were given in the Constitution of the United States. We pledge in the Constitution to be indivisible, and we've fought and died for that liberty."
Noting that Fairfax High – which opened in 1935 – was built with grant funding from the federal government, Sen. Petersen said, "A lot of the boys who graduated from Fairfax and grew up served in WWII in the 29th Infantry Division. And that was one of the divisions that landed on Omaha Beach [on D-Day, June 6, 1944]."
He also recalled that, when his father ran for Fairfax City Council, "He went to Fairfax Hardware first and shook hands with the veterans there who'd served. And we continue that legacy which began in our little town. The investments you make today create the heroes of tomorrow."
Del. Bulova said he was honored to be part of the Nov. 11 ceremony and thanked the VFW and American Legion for all they do. "Last night, I spoke to a Cub Scout den, and I asked the Scouts what responsibilities we have as American citizens," he said. "One said that someone has to protect and defend the democracy we have. That made me proud and gave me hope."
"I'm so thankful for our veterans, who don't know where they'll be asked to serve, but they do it anyway. Our military families also do so much, and we need to make sure we support them, as well. And we need to make sure we pass laws so our veterans can get the health care and other services they need. We owe that to them. God bless our veterans and God bless America."
Speaking next, Del. Helmer noted he's a proud VFW member. "My dad's an immigrant and my family members are Holocaust survivors – and only in America could they survive," he said. "I graduated from West Point and served tours in Iraq and Afghanistan. The freedoms we enjoy are ours to keep, and there's a wall between those who'd take them away and us. We watch with alarm at what's happening in Ukraine; but we raise our hands and say, 'No more.'"
He thanked Virginia's General Assembly for passing a tax break on former military members' retired pay and also for exempting 100-percent, service-disabled veterans from paying the car tax. "We want to make Virginia the best state for veterans," said Helmer. "And we want to raise another generation of people proud to be here for you and proud of our veterans."
At previous Veterans Day ceremonies in Fairfax, Mayor Meyer said his father-in-law, Charles Collins – an Air Force veteran who transported agent orange in Vietnam – later contracted bladder cancer. This year, he related that Collins died in July. 
"He served 31 years in the Air Force, from 1953-1985, including in the Korean War and in Vietnam," said Meyer. "And my wife's sister, Pamela Rhodes, also served 31 years in the Air Force and participated in Operation Desert Storm and Operation Iraqi Freedom. We depend on our veterans to ensure that our civil liberties are protected and passed down to the next generation. Thank you to all our veterans."
Next at the podium, Councilmember Yi said Friday's event was probably the largest crowd the City has ever had for this event. Noting that his father served with the Korean army in Vietnam, Yi said his dad encouraged him to join the military and serve his new country, America. Yi did, attending the Naval Academy.
"And now, 19 years in, the community I'm proudest to be in is the veterans community because they're some of the most selfless people and because veterans have grit," he explained. "And when people thank me for my service, I thank them for being worth serving. So be that American worth serving so that spirit of those veterans can live on in America. What all our veterans have done has impacted millions of people – and for generations. Thank you."
Post 177 Commander Jeff White also thanked the politicians who passed the PACT Act. "We civilians should live in a way that honors our veterans," he said. "For example, on Election Day, voters in Fairfax City had a nearly 70-percent turnout, and I'm proud of that. To make sure our veterans' sacrifices weren't made in vain, live the rights that you were given."
Next, female barbershop group, The Sound Advice, performed an armed forces medley, with veterans in the audience standing when they heard their branch of the service's song. Then VFW Post 8469's Hank Roeder played "Taps" from another room.
Giving the closing prayer, VFW Chaplain Marcus Kuiper asked God to bless the veterans and their families and friends. "Fill their homes with Your strength and love," he said. "Help us to remember and respect their sacrifices, which can carry forward in the present with physical and mental battlefield scars. Bring healing to those that still hurt and help them know You to find peace and happiness in their hearts."