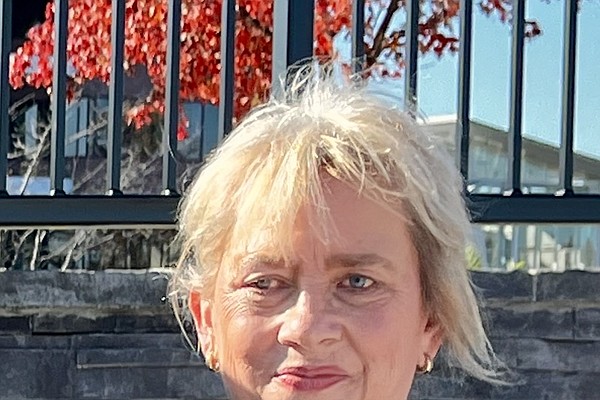 Wednesday, November 16, 2022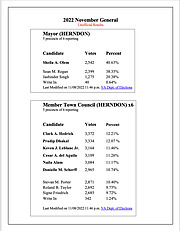 When Mayor Sheila A. Olem greets the newly seated 2023-2024 Herndon Town Council in January, half of the six members will be serving their first terms. Olem won her bid for a second term as mayor in the seven-member Herndon Town Council.
On Nov. 8, Olem narrowly defeated challenger Sean M. Regan with 40.63 percent of the vote to Regan's 38.35 percent. The third mayoral candidate Jasbinder Singh received 20.38 percent of the vote. Regan and Singh serve on the current Town Council. Their terms expire on Dec. 31, 2022.
Regan and Singh squared off against Olem, who, as mayor presides over the Town Council public hearings on the second and fourth Tuesdays and work sessions on the first and third Tuesdays of each month. Her powers are derived from the Town Charter and general laws of the Commonwealth of Virginia.
Shortly after being elected for her first term as mayor, before commencing each session, Olem reminded all councilmembers of proper decorum, as she did on Tues. Oct. 25. "Before we get started, I'd like to remind everyone to please go by the town guidelines for meetings which are up on the prompter. And that is to wait until the chair recognizes you before making comments. Be respectful. Refrain from threatening, intimidating, or obscene language and attacks that are harmful," Olem said.
Nine candidates appeared on the ballot for the six Member of Council positions. Three incumbents, Naila Alam, Cesar del Aguila, and Pradip Dhakal, their seats. Three more will begin as first-term councilmembers. They are Clark A Hedrick, Keven J. LeBlanc Jr., and Donielle M. Scherff. All will take office on Jan. 1, 2023. Voters defeated incumbent and three-term councilmember Signe Friedrichs and challengers Steven M. Porter and Roland B. Taylor.
Traditionally, at the first meeting of the term, the Mayor and Town Council approve a resolution naming the councilmember who receives the highest number of votes during the general election to the post of vice mayor. If that tradition holds, Clark A. Hedrick will be named vice mayor since he received the most votes. This will be Hedrick's first term as a councilmember.
Comment by Mayor Sheila A. Olem:
"I am grateful to the voters in the Town of Herndon for again putting their confidence in me to represent you as your mayor.  I will continue to do all I can to earn your trust and serve all our constituents, organizations, and businesses.  I also commend my opponents, Sean Regan and Jasbinder Singh, for their willingness to serve our town and wish them the best.
"I welcome back to our Council Naila Alam, Cesar del Aguila, and Pradip Dhakal, as well as new members of council Clark Hedrick, Keven LeBlanc, and Donielle Scherff.  Thank you to Councilwoman Signe Friedrichs, Steven Porter, and Roland Taylor for your eagerness to serve our town in this capacity and wish all of you the best and look forward to your continued involvement in this community.
"To our Herndon community, thank you to all who voted and participated in our democracy. I look forward to getting back to town business and addressing our desires to work with our community partners to continue our downtown events, maintaining and improving our town services, as well as our improving our roadways to provide safe, walkable, bike-friendly access for all."