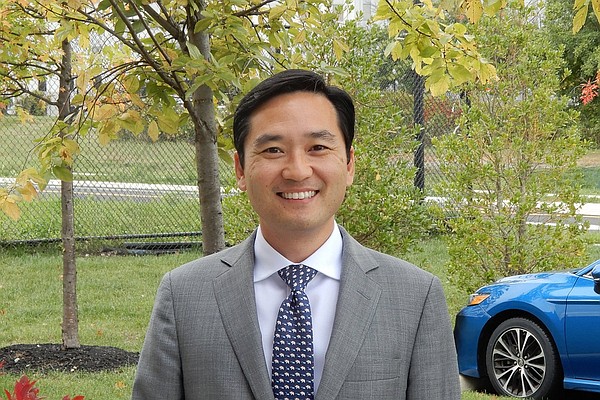 Thursday, October 20, 2022
A Fairfax City resident since 2013, Sang Yi is a senior aide on Capitol Hill and an officer in the U.S. Navy Reserve. He's also served two terms on City Council and proudly notes he was the "top vote-getter" in both his elections.
But he's now vying for mayor and, if elected, he'd become Virginia's first-ever, Korean American mayor and the first nonwhite mayor of Fairfax City. Yi said he's seeking this post because of the leadership the job requires, and he likens it to being chairman of a board of directors. 
"The mayor has an impact on the Council's agenda, receives Council input, builds consensus and helps build collaboration among the Council members for direction," he explained. "That's important because the Council creates policies and points of view that City staff can act on. If staff doesn't know what to do, it can be dire for the residents. 
"It's also why it's critical that the mayor works closely with the Council. And I'm proud to have the endorsement of six of the nine Council candidates, who all represent a wide berth of diverse viewpoints. That's what the City needs, and our nonpartisan elections allow for that."
Yi said Fairfax has lots of hometown charm, but added, "We're in danger of losing it because of how we develop and where we develop. When you start building large structures, what happens to, for example, Old Lee Highway where lots of people live and two schools are? The mayor should represent those kind of ideals – which I think I share with most of our City residents."
He also believes Fairfax's mayor should make sure the City runs efficiently – and that includes streamlining the Council meetings. "When Council meetings run really late, Council members' attention wanes, residents watching want to go to bed, and it's not fair to the applicant," said Yi. "We need to get out the main points of an agenda item, without having it go on for hours."
The main planks of his campaign platform are affordability, development and City walkability. "The City should focus on affordability issues – not just of housing – but rising cost-of-living issues everyone is facing," he said. "I don't want to keep adding different taxes. It's more transparent if money comes from the general fund because, then, people know what their tax dollars are funding."
"I don't want us to just pay lip service to building affordable housing," continued Yi. "I want people to actually create a diverse housing stock with purpose-built housing for seniors. We should preserve our market-rate, affordable housing, as well. And we also need new housing in a variety of price ranges – expensive, mid-range and cheaper. We need to keep our residents here and not tax people out of their homes."
Regarding development, he believes in Fairfax "growing and developing sensibly so it maintains its tight-knit, community feel. I like our different festivals, as well as the various programs the City offers for children. My daughter even referred to Old Town Hall as 'Mr. Skip's House,' because she's gone to Story Time with Mr. Skip there."
And, said Yi, "These things build a family-friendly environment. Also important are our great parks, and we should rejuvenate them for all the parents and children who use them, as well as for adult fitness. And that's how you build community."
As for walkability, he said it should be accomplished while preserving all modes of transportation in the City. "Connectivity is important, but I don't want to shrink our roads to where they're impossible to use," said Yi. "We also need good traffic flow."
He said he also wants to make sure that Fairfax City's public school system remains really strong. "I'm looking forward to working with our new superintendent and school board," said Yi. "Right now, we're focused on school security and making sure our schools are safe and secure."
Protecting the natural environment is important to him, as well. "I'm a big proponent of tree preservation," he said. "But there's a growing problem with invasive species and dead trees, so I was a huge proponent of having an arborist on the City staff."
So why should people vote for Yi for mayor? "My four years and three months on Council, plus my professional background, are all indicative of the experience I can bring to the Council as mayor," he replied. "I have lots of applicable, real-world experience, and I believe it's important that people serve their community.
"I want to focus on issues that impact people, neighborhood by neighborhood. Our City is a really special place, and we need to preserve its uniqueness. And if people vote for me as mayor, I'll work every day to make sure we don't lose our special sense of place here. It's really been an honor to serve the residents on City Council. I've learned a lot that I can use to serve the residents well as their next mayor."