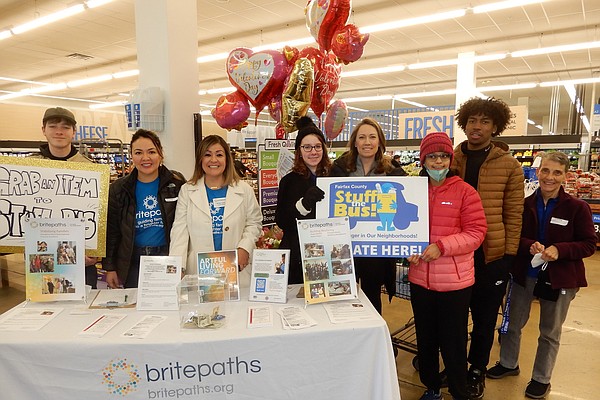 Thursday, February 16, 2023
A Stuff the Bus food drive for Britepaths' food pantry was held last Saturday, Feb. 11, at the Fairfax Walmart on Lee Hwy. Part of Fairfax County's annual initiative to stock local food pantries in the winter, it proved to be a big success. The five-hour event yielded 1,154 pounds of food and supplies, $237 in cash and $910 in gift cards. 
Volunteers greeted Walmart customers as they entered the store and passed out fliers asking for donations of food or money to help nonprofit Britepaths continue providing food for local families in need. Items collected were then stuffed into a Fastran bus and brought to the organization's pantry.
Meanwhile, those unable to participate in this food drive may still contribute to Britepaths because the need for food is ongoing. Nonperishable food items needed are cereal (healthy, low sugar), oatmeal (in canisters), pancake mix and syrup, jam/jelly, dried beans, pasta and sauce, and parmesan cheese (shelf-stable). 
Household/hygiene items needed are laundry detergent, toilet paper, all-purpose cleaner, Windex, Clorox Wipes, shampoo/conditioner, and deodorant. Also welcome are grocery-store gift cards in amounts ranging from $25-$100.
Donation drop-offs are preferred Monday thru Thursday. Britepaths is at 3959 Pender Drive, Suite 200, in Fairfax. Call 703-273-8829 or email 
info@britepaths.org
 to let them know you're coming, and they'll meet you in the parking lot to receive the delivery.