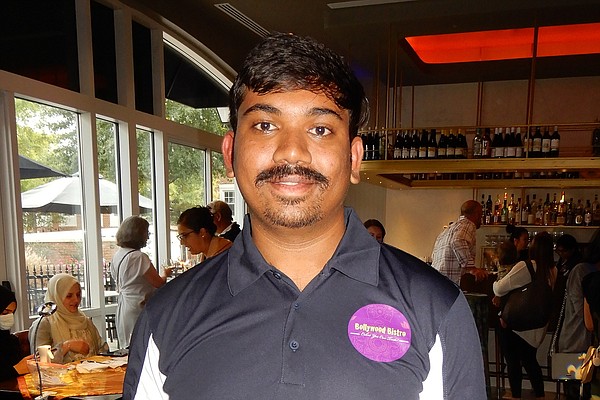 Thursday, January 19, 2023
Ganesh Jagtap playing the dhol, a traditional Punjabi instrument, for the anniversary celebr
Bollywood Bistro in Fairfax City dishes up good times with friends and family, plus delicious food in a warm and welcoming atmosphere. And customers and well-wishers flocked there recently to celebrate the restaurant's 13th anniversary and building expansion.
"People have been so good to us in Fairfax City since my wife and I started this restaurant here," said co-owner Pankaj Sharma. "We've now enlarged it from 1,800 square feet to about 4,000 square feet."
Over the course of some seven months, Bollywood Bistro expanded into half of the former Panera Bread location in the City's Old Town Plaza. (Brooke's Bridal & Ball opened its store in the other half).
"Now we have seating for 100, and the whole interior has been redone," said Sharma. "People love the new look and new colors that make it more modern and unique. The ceilings went from black to gray, and the off-white, blue and orange walls are now painted maroon and gray/green. We even have a brand-new bar that can be closed off for private events, as well as new furniture for our patio."
Offering authentic, fresh and modern Indian cuisine, Bollywood Bistro is at 3955 Chain Bridge Road. It got its name from the paintings on the walls depicting photos and black-and-white filmstrips of Bollywood movie stars.
"People come here because we offer the most authentic Indian food and outstanding service, and we greet everyone personally," said Sharma. "We also do weddings and catering."
The recent changes to the restaurant also included a new menu, while keeping many of its trademark favorites that keep loyal customers returning for more. In October, Chef Sunil Bastola began offering a 13-course menu, plus new appetizers. For example, Chicken 65 is an Indian and Chinese fusion of batter-fried chicken with curry leaves and chilies, and Gobi Manchurian is Chinese-style, batter-fried cauliflower with a sweet and spicy sauce.
A new entrée item is the Kerala Fish Fry, flavored with ginger and other spices. "We're mainly a North Indian restaurant," said Bastola. "But we also serve Malabari Chicken from Southern India. It's chicken curry cooked with coconut milk and curry leaves. And from Eastern India, we have Bengali Macchi, which is sea bass in a gravy with mustard seeds, onions and tomatoes."
Among the most popular entrées, said Sharma, are Champe – rack of lamb marinated with herbs and spices; Malai Kofta – carrots, cheese and potato croquettes cooked with onion, cream and spices; and a new dish of Yellow Crab Curry – jumbo lump crab simmered in turmeric, coconut milk and spices. And for dessert, a customer favorite is Mango Kulfi – a frozen treat in either mango or malai (cardamon) flavors.
Customer Jenna Sands goes to Bollywood Bistro once or twice a week. "I come with my bunco friends for lunch, and then my family gets jealous, so we all come here on the weekend," she said. "We've been coming here since they opened. They've always been so welcoming and warm; my children grew up eating their food."
Calling the whole menu "amazing," Sands said, "I've never had anything here that wasn't the best I ever had. We've also celebrated birthdays and anniversaries here. Their Tikka Masala – either chicken or vegetarian – is perfect. My son's favorite is the Chicken 65, and their Dal Makhani [black lentils with cream and pureed tomatoes] is absolutely delicious. We've forgone all other Indian restaurants for this one."
Fairfax resident Alexandra Kepler said she and her husband Daniel eat at Bollywood Bistro at least once a month. "I especially like their incredible, appetizer salad," she said. Called Aam Palak Chat, it features crispy spinach and fresh mangoes tossed with mint and tamarind chutney. "It's savory and crunchy and has fruit in it," said Kepler. "And it's so addictive, we dream about it."
She also likes the Gobi Manchurian. "It's rich, spicy and sweet and uniquely delicious," she said. And besides the food, she added, "The service is extraordinary – everyone's so attentive and friendly."
"We're vegetarian, and more than half the menu is vegetarian," said Daniel Kepler. "And if you want something Indian spicy, they'll make it that way." He said their third favorite dish there is Paneer Makhani, which is "like Butter Chicken made with cheese, instead of chicken. It's saucy, and we dip the naan in it."  
"It's always a lovely experience dining here," said his wife. "They've never disappointed us – we love it."
Comments such as these are music to Sharma's ears. "I'm blessed to be here in Fairfax City," he said. "Everyone has been great, and I thank them all for their business and love."