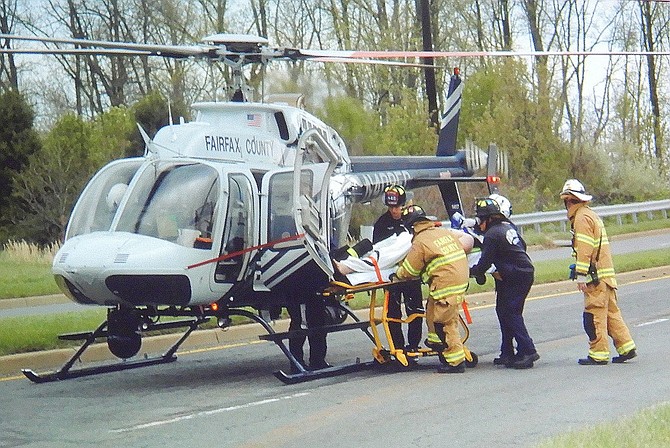 Area residents often hear Fairfax County police helicopters overhead and wonder where they're going and why. PFC Jason Deal provided answers during a recent meeting of the Sully District Police Station's Citizens Advisory Committee (CAC).
"I've been with the Police Department since 2014 – all of it at Sully," he said. "Since 2020, I've been in the Helicopter Division, and I love it. We have two Bell 429 helicopters and we respond to police missions including robberies and pursuits [of suspects]. We also respond when people need help; we search for critical missing persons – the elderly, persons with dementia, children, and people with special needs or who are endangered."
"We can fly day and night and in light rain," continued Deal. "We fly in the most restricted airspace in the world, where security clearance is needed. There are only 12 helicopter units like us that have EMS [Emergency Medical Services] capabilities."
The pilot and a police officer sit in an all-glass cockpit. And the helicopter contains two engines, so "If one engine goes out, we can keep flying, as long as we have fuel," said Deal. "We also have really good cameras; I can see people's hands while they're driving. We have better night vision than the military."
When looking for a person at night, they use a thermal-imaging camera. However, because of its heat signature – the visible representation of a person or object's exterior temperature – they don't see color – just black, white and gray. 
Deal said a joystick helps him steer the camera to keep following a suspect. "We'll follow a pursuit to their end destination," he said. "And we can talk to other police jurisdictions in the Washington Metropolitan area, including State Police, while doing so."
During the day, the helicopter occupants can see 3 miles out and 1,000 feet down. "We have to be able to see at least a mile out and 800 feet down at night," said Deal. "And we don't fly in heavy rain or fog – that's a national standard."
The unit also does a great deal of rescue missions. For example, Deal recently found an elderly man lost on a walking trail in McLean. "With my night vision, I saw the light on his cell phone as he held it up to the sky," he said. "We do water rescues of boaters, too." But the helicopter units do more than searches.
"When there's a car crash, for example, we're often called because it's faster for us to reach and fly the patient out than a ground unit can," explained Deal. "We try to be up in the air within 3-5 minutes of receiving a call. And sometimes, we arrive on the scene before patrol. We do 40-60 Medevacs a year, flying critically injured people to a trauma or burn center. 
"We'll go anywhere within reason. Fairfax County and Medevacs are our priorities, and then criminal calls. But we also responded to 9/11 and to the Navy Yard shooting. We post all our missions on the FCPD Helicopter Division Website." 
He said police assigned to that division have to pass a year-long, paramedic class. "Then more training happens, quarterly and monthly," said Deal. "There's a lot of math and calculations involved in determining how much medicine to administer to someone. 
"We're trained on rapid-sequence intubation, so we can maintain someone's airway when they can't breathe on their own. We also have CPR training. We just take one patient at a time, and maybe a parent, depending on weight. We don't charge anything; a civilian helicopter would start at $20,000 a trip."
Furthermore, said Deal, "We're the first police operation in the country that carries and administers blood. I was the first to use it – on a Prince William man who was shot five times and lived. We went a month without using it, and then we used it three times in one weekend."  
Another part of their job, he said, is troop transport. "We'll carry four to five police officers to get the SWAT [Special Weapons and Tactics] guys somewhere quick," he said. "And every year we fly in Santa to the Sully District Station." In addition, when their schedule permits, the helicopter units will also participate in community events, such as Touch-A-Truck and Centreville Day.
Besides his other duties, Deal teaches a Stop the Bleed course to recruits at the Police Department's Criminal Justice Academy. "It's especially important when people have been shot or stabbed," he said. "Paramedics are often the people giving aid between the police and fire departments' arrival on a scene."
Deal said four or five, full-time tactical paramedics trained to provide lifesaving care are available to assist the Police Department's SWAT and dive teams. They're also on hand at presidential inaugurations, in case they're needed. And every officer has two doses of Narcan to treat drug overdoses.
"We also have an extensive drone program that helps us find people, respond to crime scenes and map auto accidents," he added. "They can go where planes can't."
For more information about FCPD's Helicopter Division, go to https://www.fairfaxcounty.gov/police/helicopterdivision/fairfax1.