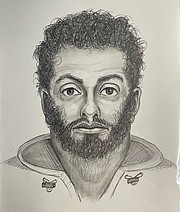 Fairfax County police are looking for a man they believe sexually assaulted and tried to rob an adult woman in Centreville. They say the crimes occurred Wednesday morning, May 24.
Officers from the Sully District Station responded that day at 9:32 p.m., to the intersection of Bay Valley Lane and Compton Lane for a report of a stranger approaching a woman at the trunk of her vehicle. They say the man attempted to take her wallet and sexually assaulted her. 
According to police, the victim was able to fight him off and call them. However, the suspect ran into nearby woods before the police arrived. They say the woman sustained injuries that were non-life-threatening.
The man is described as approximately 40 years old, 6 feet, with wide shoulders and crooked teeth. He had short hair, curly on top, and a beard; and he was wearing khaki pants and a green, raincoat-style jacket. Police have released a composite sketch of the suspect in hopes that someone will recognize him and contact them.
Anyone with information about this event or the suspect is asked to call the Major Crimes Bureau at 703-246-7800, option 3. Tips may also be submitted anonymously via Crime Solvers by phoning 1-866-411-TIPS (866-411-8477).