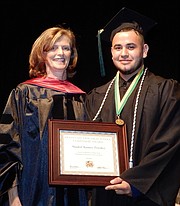 For most students, graduations mark the closing of one chapter in their lives and the beginning of another. But students at Mountain View High start their new lives the moment they enter the doors.
They often come from other countries, not speaking a word of English, or from untenable situations at other schools. But once at Mountain View, they begin again and receive the support and encouragement they need to thrive, So their graduation ceremony last Tuesday, June 6, at Centreville High, was especially meaningful to all involved.
"You share the common bond of being part of the Mountain View family and knowing that the school's motto of 'Family, Love and Respect' is living and breathing inside you," said Assistant Principal Kim Witeck. "You're resilient and strong, but were also supported by your families, guardians, fellow students, teachers, counselors and administrators."
Principal Catherine Stone acknowledged, as well, the Mountain View Foundation for its scholarship money which "directly impacts the ability of our graduates to access post-secondary education." She then told the students that graduation culminates their many years of school and they should choose a moment to always remember from their ceremony.
"You've worked hard to get here today, and your journey wasn't always the easiest," she said. "You may not have always believed graduation was in your future. You've each faced challenges during your time in school. But once you got to Mountain View, you learned some lessons that have helped you on your journey." These are:
* Set goals and follow them through to completion because "goals help us get to where we want to be."
* Use a challenge as a learning experience and move forward.
* Take a break. "When things aren't going how you hoped, pause, take a deep breath and, when you're ready, get right back to it."
* "Family will always be there for you, and it isn't just blood relatives. It's the community you build for yourself, like the family you found at Mountain View."
* Treat everyone with love and respect – "you get what you give."
"Never forget that you can achieve great things when you work hard, are resilient despite the challenges, and believe in yourself," continued Stone. "Remember today and how it feels to accomplish a goal you've worked hard for. You've each earned your diplomas, so celebrate your success – but don't forget to thank all the people who helped you along the way.
"You're important and valued, and you deserve success. Stay in touch; we want to know how you're doing and continue to help with your journey – that's what families do. Congratulations, Class of 2023; your Mountain View family is proud of you."
Next came the two student speakers. Brenda Pineda said she was dropping out of her previous school because she was rejected and bullied for not speaking English. "I asked the teachers for help, but they ignored me," she said. "Then I came to Mountain View, where the teachers care about you and will become your friends."
"They gave me help when I needed it and changed my perspective on school," said Pineda. "They gave me a place where I felt worthwhile and successful. And now, I plan to go to college and become an event planner." She said her mother and grandfather were also good role models for her.
"My mom never gave up; she always worked hard," said Pineda. "And my grandpa was always proud of me and encouraged me to work hard to succeed in school." She also thanked her stepdad for coming into their lives and making things easier for them, plus his brother who urged her to read books in English. 
"And thank you to my son Jayson – I'm graduating because of you," added Pineda. "I want you to know that nothing is impossible if you work hard and follow your dreams." She then thanked her classmates and friends who studied with her, several individual teachers and counselors, Stone, and former Mountain View Principal Joe Thompson "for believing in me."
Speaking next was Mehateme Boncampi. "Four years ago, my mother brought me and my two younger siblings to the U.S. for a better life," he said. "She made countless sacrifices for me and gave me unconditional love. I come from Ethiopia, which was once a powerful empire. I saw its poverty and appreciated my privileges and family."
Believing that "language allows us to understand and learn about other cultures," he wants to work in computational linguistics and promote Amharic – a language of Ethiopia – and give back to his birth country. He said his two siblings taught him patience, and his late grandmother's love and wisdom "continue to inspire me. She's shaped my values and desire to make a positive impact on the world."
Boncampi also thanked many individual Mountain View teachers and staff members who've "played a role in my personal growth. And to my peers, I wish you good luck and hope you'll find your way in the world and always be true to yourself."
Special awards were then presented to three deserving students chosen by the teachers:
* The Citizenship Award is given to a student who's helped build a positive school community. ESOL teacher Leslie Chekin gave it to Maikol Ramos. 
* The Personal Achievement Award goes to a student who succeeded academically and personally, despite having adult responsibilities, such as a job or a child. Head Librarian Becca Ferrick presented it to Boncampi.
* The Faculty Award is given to the student achieving the greatest academic and personal success, despite significant obstacles. Receiving it from science teacher Susan Culik was Lauren Connors. "Her teachers called her 'creative, unique and intelligent,'" said Culik. "She's been able to shine at Mountain View, and she should be proud of how far she's come in a short time.
"Her teachers also said Lauren uses her voice to promote those marginalized, rather than herself. She's a kind, sensitive person, always willing to help her classmates. I had her in my environmental science class, and she always made me laugh. Lauren, your Mountain View family values you as both a student and a person."
Then Stone recognized each student who'd received a scholarship, diplomas were awarded, and the grads, families and school staff filed into the cafeteria to celebrate together.