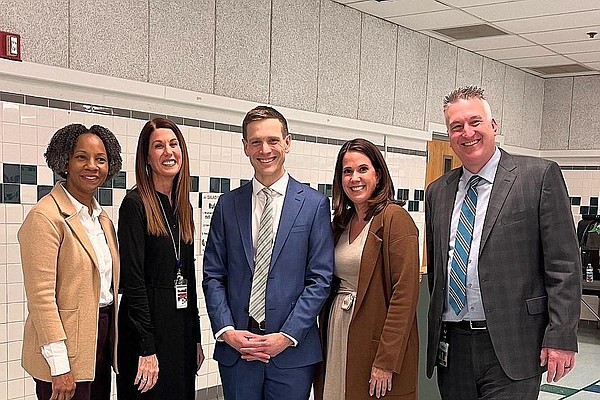 Wednesday, March 15, 2023
Andrew Pratt is the new principal of Providence Elementary in Fairfax City. The City of Fairfax School Board officially welcomed him during its meeting, last Monday, March 6, and he started his new job, this Monday, March 13.
He replaces the previous principal, Dan Phillips, who now becomes Assistant to the Superintendent of City of Fairfax Schools. Phillips was named to that post in January but couldn't start his new duties until a new principal was hired to replace him.
Pratt brings more than 16 years of elementary-school experience with Fairfax County Public Schools. He began his career as a fifth-grade teacher at Riverside Elementary in Alexandria; and for the past five years, he's been an assistant principal at Mason Crest and Annandale Terrace elementary schools, both in Annandale.  
"This afternoon I was so warmly welcomed by the staff, Mr. Phillips and the administration team, and I am honored to be here tonight," said Pratt at the School Board meeting. "I am excited and grateful for this opportunity to serve the City of Fairfax and its students, and I can't wait to get started. I look forward to being there for each of you and look forward to you being there for me, as we take on this important and challenging work to prepare our students to become lifelong learners and successful citizens."
Phillips was on hand to welcome Pratt. "Our students and our staff are ready to give him our best, and we know he's the best person for the job," said Phillips. "I look forward to working with Andrew for a smooth transition and for many years ahead."
Outside of school, Pratt enjoys spending time with his wife and three sons, as well as playing soccer, biking, running and cheering for all the Washington, D.C., sports teams. 
— Carrie Dorsey also contributed to this story.