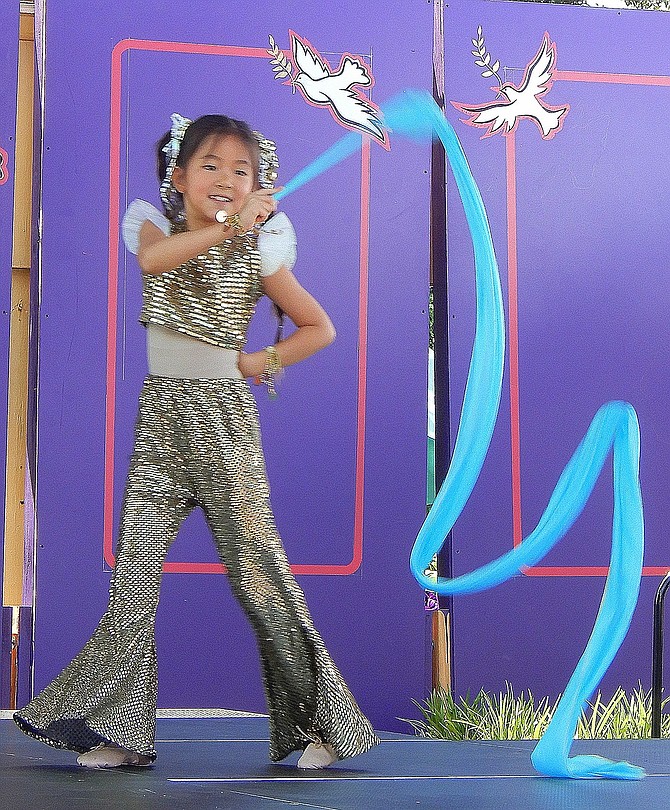 A celebration of Asian culture and heritage through food, arts and crafts, music and dance – that's Fairfax City's Asian Festival on Main. Created to bring people together and highlight cultural diversity in a delicious and entertaining way, this third annual extravaganza is set for this Sunday, May 21, from 11:30 a.m.-6 p.m. Rain date, June 4.
A true street festival, it's held on Main Street in the City's Old Town area, between University Drive and Blenheim Boulevard/East Street. And this year, it'll also include Old Town Square and part of University Drive. Admission is free, and this fun, family-friendly celebration will offer something for people of all ages.
More than 50 Asian food vendors, including nine food trucks, will sell a wide variety of tasty and colorful culinary delights. And a beer garden will offer alcoholic beverages from High Side, Drunk Fruit, Blue Sky Distillery and Capital Sake. 
Two of the entertainment highlights will be the event headliner, Jay R – a Filipino American also known as the acclaimed "Philippines King of R&B" – and the Choy Wun Lion Dance Troupe, which recently performed at the White House during its Lunar New Year celebration. 
Another crowd-pleaser will be DMV Itasha, a popular car club featuring Anime-themed, wrapped cars. And some 50 vendors and exhibitors will have arts and crafts items available to purchase.
"There is so much excitement in our community for the annual Asian Festival on Main," said Fairfax Mayor Catherine Read. "It celebrates the many Asian cultures, traditions and cuisines that make our City and region so vibrant. It has quickly become a favorite City event." 
Indeed, last Tuesday, May 9, she and the City Council presented a proclamation to the Old Town Fairfax Business Association (OTFBA), festival committee members and local Asian business owners. This proclamation officially recognized May as Asian American Native Hawaiian & Pacific Islander Heritage Month in Fairfax. 
With the support of these City entities and various contributors within the Asian community, the festival attracted 18,000 attendees in May 2022 – more than doubling the attendance from its initial year in July 2021. And because of its huge popularity, this event has rapidly become one of the City's annual marquee celebrations. 
Seeing its success, Festival Chair Jinson Chan, co-owner of High Side Craft Brews & Asian Street Food in Fairfax City, couldn't be happier. "We're excited to expand the festival's footprint this year to provide even more opportunities to highlight Asian businesses and culture," he said. "We appreciate all the hard work of the volunteers and the support of our sponsors that make this event possible."
The festival showcases Asian contributions to the community; and together, Fairfax City and the OTFBA have worked hard to make it a reality. Hollywood Casinos at Charles Town Races is also one of the main sponsors.
In addition, OTFBA is partnering with Asian American Youth Leadership Empowerment and Development (AALEAD), a nonprofit that supports low-income, underserved Asian American and Pacific Islander youth. It offers them educational empowerment, identity development and leadership opportunities via after-school, summer and mentoring programs.  
As for this year's festival, here's a sampling of just some of its upcoming highlights:
Food Vendors
Treats for the tastebuds will be everywhere, thanks to a wide range of vendors. For example, Bun'd Up is offering its Taiwanese Steamed Bao Buns with an assortment of fillings, including fried chicken. And Gwenie's Pastries will serve fluffy doughnuts with fillings including Nutella, pandan (grassy vanilla-coconut), mango and ube (sweet potato).
Gong cha is offering flavorful and refreshing bubble teas. Capital Musubi will sell supersized Musubis (rice, nori and meat or vegetable sandwiches), plus other foods reflecting the flavors of the Hawaiian Islands.
CHIBOO Bakery will bring macarons with Asian-inspired flavors, while Buddin' Bakery features its guava-and-brie rolls with guava-cream cheese frosting and chopped pistachios.
The Phowheels Vietnamese food truck will be serving hot pho in a cup and banh mi sandwiches infused with garlic truffle aioli. Sarin Grill will bring Thai food, and Sister House will sell takoyaki – bite-sized, Japanese snacks made with seafood. 
Cocois Sweets and Pastries will offer treats including ube halaya doughnuts. and Toimoi bakery will feature Asian-inspired croissants. In addition, Homade Sweets will bring cookies in Asian flavors such as ube sugar, pandan coconut, milk tea, taro, matcha strawberry and Viet coffee.
Rice Culture will bring Taiyakis, street-food desserts with Filipino and Taiwanese flavors. They're Japanese waffles shaped like fish and made fresh to order, while customers watch. Each is then topped with Asian-inspired fillings such as ube, vanilla custard, matcha (green tea) custard, Nutella and black sesame custard. 
Yomie's Rice x Yogurt will provide creamy yogurt drinks, Korean Inari sushi and mochi doughnut bites. And there'll even be a vendor – DeepFriedWatermelon – selling its namesake, Filipino deep-fried watermelon.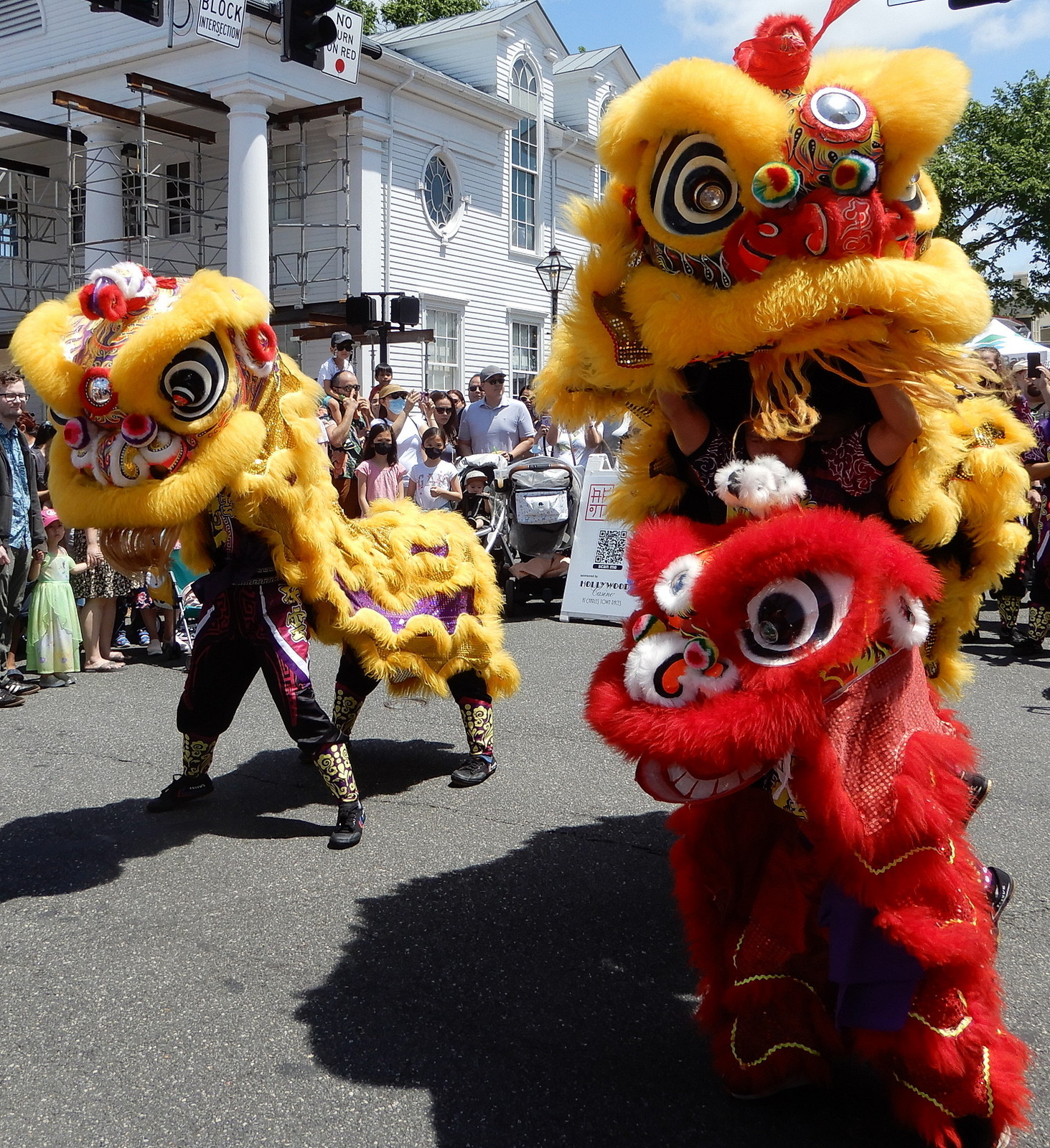 Entertainment
The fun will begin at 11:30 a.m. with the return of the Choy Wun Lion Dance Troupe, as two lions will dance their way through downtown Main Street to join and awaken a third lion "sleeping" at Old Town Square. There, either Chan or OTFBA Chairman Josh Alexander will perform the lion-awakening ritual for the third lion by dotting its eyes with paint so it can see. 
Then all three lions will perform briefly, prior to Fairfax City Councilmember So Lim's opening remarks at noon to officially start the festival. Several cultural performances will entertain the crowd at both the Main Stage at Old Town Square and the auxiliary stage on Main Street. Elaine Espinola Keltz, a local actor, podcast host and 2015 Mrs. District of Columbia, will also return as the event host and emcee. 
Besides Jay R, entertainers will include Leif and J Matty – winners of an iHeart Radio & Hot 99.5-DC competition with their song, "Lucid." Bharathanatyam, an Indian classical dance group, will take the stage with founder and guru Indrani Davaluri, who holds a Masters in Performing Arts and has more than 700 performances all over the world to her credit.
Returning to the festival this year will be the highly popular cosplay costume contest in which people dress up as characters from popular movies, books, TV shows and video games. Attendees are always excited to see the participants' imagination and creativity and cheer for their favorites.
Debra Wright Studio will create a special art installation called the Unity Tree, at Old Town Square. There, attendees may write their wishes on colorful tags to be placed on the tree. AALEAD will also accept donations there. The Unity Tree will then be on display for one or two weeks afterward for all to enjoy.
"We're excited that the OTFBA is again hosting the Asian Festival on Main this year in the cultural and social heart of Fairfax City," said Economic Development Director Chris Bruno. "As the merchants' association representing all Old Town Fairfax businesses, the OTFBA promotes the neighborhood as a great place to own a business, visit and spend time – and this event accomplishes that many times over." 
For more information on becoming a sponsor, volunteer or participant, go to asianfestivalonmain.com.