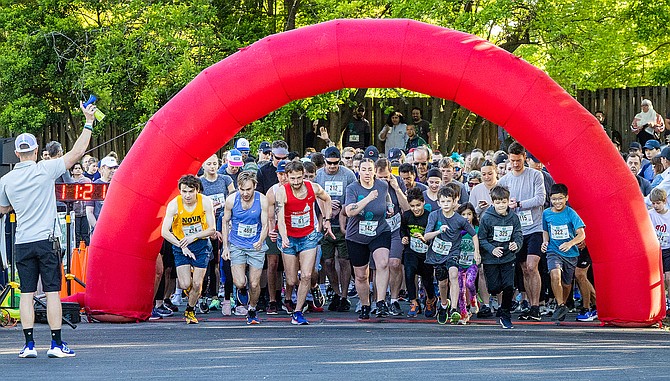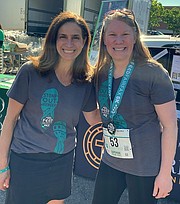 Raising money for two local nonprofits that feed hungry people in Fairfax County, the third annual Feed Fairfax 5K and 1-mile fun run/walk was a huge success. Held May 6 in Chantilly's Greenbriar community, the event yielded $60,800 to help both Western Fairfax Christian Ministries (WFCM) and Food for Others.
According to Race Director Ken Tarr, more than 400 people participated in the run and walk, covering 1,477 miles total. And another 300 or so volunteers and family members were there, as well, cheering them on and helping out with the event. The top male and female finishers in the 5K were Karina Conrad of Fairfax and Kevin Cory of Arlington. 
But in reality, the biggest winners will be all the local students who'll receive food from both organizations, as a result of this event. Proceeds from the race and walk support WFCM's Free Food Fridge program and Food for Others' Power Pack program – which both enable children in need to have food to eat over the weekend.
And at the end of the race/walk, participants filled Power Packs with food for the students. Each pack contains six meals, plus two snacks and two drinks, and all the items are easy for children to prepare, themselves. A total of 17,500 meals in about 2,500 power packs were packed on race day for Food for Others.
In addition, WFCM and Food for Others each received $20,000 checks from the event's registrations. WFCM's donation will stock its free refrigerators at 14 sites, including Chantilly and Centreville high schools, Rocky Run Middle School and the Boys & Girls Club of Chantilly.
Between the two organizations, the Feed Fairfax 5K funded meals for 45,595 Fairfax County children. Delighted, Food for Others Executive Director Annie Turner said, "This is a great example of what partnership and community can accomplish."
Agreeing, WFCM Executive Director Harmonie Taddeo said, "We are grateful for the support of the many community members and businesses who participate in this fun event that benefits WFCM and Food for Others. We look forward to using these funds to buy fresh food to stock our Free Food Fridges."