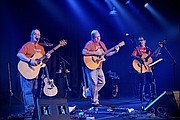 When the Grateful Dead's singer Jerry Garcia died on Aug. 9, 1995, it seemed like the idyllic, tie-dyed culture of Garcia's following might die too, but that's not what happened. The Dead Heads lived on, listening to the Grateful Dead's music and doing the hippy shake at all the tribute band shows they could. That's still happening today, 28 years later.
In June, one of the bands called the "Jerry Tripsters," will be playing at Jammin' Java in for local Grateful Dead fans keeping the spirit alive. 
"It's the last place that people can let their freak flag fly," said one fan.
Alexandria musician John David Coppola went to 54 Grateful Dead shows back in the 1980s and now his band Free Flowing Music Experience, rocks to Grateful Dead music as well as some of their own originals. Around Northern Virginia, they've played at the Birchmere, the State Theater, Earp's Ordinary and Jammin' Java.
Grateful Dead songs "are our common theme," said. "We're all Dead Heads," he said, and the other band members have been to at least 50 shows back in the day, and maybe more. Although there are staple Grateful Dead songs on the play list, like "Truckin'," "Sugar Magnolia," and "Bertha," that may be old favorites around the circuit but some of the young listeners are hearing these songs for the first time. "It still seems to be pretty popular," Coppola said.
Jerry Tripsters and the Free Flowing Music Experience are among a handful of Grateful Dead-themed bands that play around town and they bring out a big crowd due to the popularity of the Grateful Dead's music and the spirit of a live show. "There is something special about the Grateful Dead music performed live that attracts old 'dead heads' and younger fans," said Luke Brindley at Jammin' Java. It's not only the older crowd either, the twentysomethings like the music and the party, he added.
Coppola remembered going to a show for the first time years ago, and the crowd was into it, there are tie-dyes everywhere and dancing in the aisles. "That was my favorite part, it was like a carnival," Coppolla said.
Want to experience the scene yourself? In addition to the Jerry Tripsters and the Free Flowing Music Experience shows on June 16, there is a "Grateful Dead Meet Up at the Movies," event in June as well, showing a film of the Grateful Dead in Chicago on June 22, 1991. There will be a showing of this documentary June 22, 2023, at AMC Tysons Corner, the Angelika Mosaic and the Alamo Drafthouse Cinema in Crystal City. Go to meetupatthemovies.com for more information.
If You Go:
Upcoming Jerry Tripsters Show at Jammin' Java
June 16, 8 p.m.
227 Maple Ave East, Vienna, VA 22180
(703) 255-1566
Free Flowing Musical Experience
June 16, 6 p.m.
Bunnyman Brewing
5583 Guinea Rd, Fairfax, VA 22032